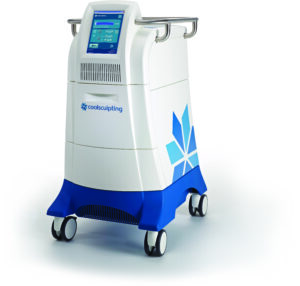 CoolSculpting® is a non-surgical procedure for eliminating body fat that is resistant to diet and exercise. Providing long-lasting results to Palm Harbor and Clearwater patients, CoolSculpting freezes and destroys fat cells and improves contouring in problem areas, including the chin, abdomen, flanks, inner and outer thighs, arms, bra fat, back fat, and underneath of buttocks (banana roll).
Moraitis Plastic Surgery is a CoolSculpting-certified practice, which means that Dr. Moraitis and his team have completed advanced training in the procedure and have the most up-to-date technology available to patients. Registered Nurse, Ali, will conduct your consultation and perform your treatment. These tools, along with the patient-centered care you will experience during your CoolSculpting treatment, will promote the results you desire.
Our patients also have the benefit of receiving DualSculpting at Moraitis Plastic Surgery. You can treat two troubled areas at once saving you half the time! It is the same procedure, we just have the option to use both of our CoolSculpting machines, which is perfect for any treatment areas that need to be performed on two sides of the body, such as love handles, thighs, bra/back fat, and many more.
---
Watch our video to learn more about your CoolSculpting treatment journey.
---
Who is an Ideal Candidate for CoolSculpting?
Not all fat removal requires liposuction or other surgery. Non-surgical options such as CoolSculpting can safely blast fat away using the latest technology. It can be used on areas such as the abdomen, hips, thighs, flanks, back, legs, or arms. This may be a good option for you if:
A consultation with our Coolsculpting Specialist Nikki, LCE can help you determine whether CoolSculpting will work for you and what type of results you can expect following treatment.
---
How CoolSculpting Works
CoolSculpting is an FDA-cleared technology that uses a set of applicators to focus cooling on trouble-spots around the body. The device targets fat cells in deep layers of the tissue, crystallizing and then destroying the fat. Based on trials, patients can expect up to a 20-25% reduction in treated fat per CoolSculpting cycle, resulting in a firmer body contour. Also, the results patients see are long-lasting as long as they do not gain considerable weight post-treatment.
---
Watch Dr. Moraitis explain how CoolSculpting works on DayTime.
---
CoolSculpting is ideal for busy Palm Harbor and Clearwater patients because:
The most significant changes reveal themselves between one and three months after a CoolSculpting cycle. Patients describe CoolSculpting as a feeling of suction and cold at the application site. Most experience minimal discomfort and return to normal activities immediately afterward. If you want to improve areas of stubborn fat but would prefer not to have surgery or an intensive recovery, CoolSculpting can be an excellent solution.
---
Hear Dr. Moraitis explain the effectiveness of CoolSculpting on DayTime!
---
---
The CoolSculpting Experience
Initial Consultation
During your appointment, you will meet with our CoolSculpting Specialist, Nikki who will perform your treatment. Having the same team member involved in CoolSculpting from the first visit to the final outcome provides Palm Harbor and Clearwater patients with a boutique-quality experience.
Together, you and Nikki will discuss the areas of concern to ensure that CoolSculpting is the right option for you. For some patients, liposuction or tummy tuck may better achieve their goals. For others, CoolSculpting can effectively target and improve trouble-spots. As part of your consultation, Nikki will also conduct an examination and learn about your medical history. At Moraitis Plastic Surgery, the safety, health, and comfort of our patients is top priority.
Treatment Plans
Dr. Moraitis' Palm Harbor and Clearwater patients usually undergo 1-3 treatment sessions to achieve their desired result. To make the best use of your time, your treatment plan may include visits where areas are treated completely in one day. Nikki usually recommends focusing on up to two areas per visit to maximize efficiency while keeping your experience comfortable. Our DualSculpting machines keep this option even more possible as we are able to treat both areas during the same treatment time.
What to Expect
On the day that you have CoolSculpting, you will meet with Nikki to review your plan. She will also answer any questions you may have and mark your treatment areas.
Each CoolSculpting cycle will last about 35 minutes, and treatment areas will be massaged immediately after each cycle. As an FDA-cleared technology with established efficacy, you can expect treatment to give you a visibly firmer body contour within two to three months.
After the Visit
You may have some slight redness or swelling immediately after CoolSculpting. This will allow you to complete your daily routine, including whether you want to work out, go out to eat, or return to your office.
---
Choosing Moraitis Plastic Surgery for Your CoolSculpting
Palm Harbor and Clearwater patients select Moraitis Plastic Surgery for their treatment because they know they will receive personalized care from professionals with advanced training and technology.
Moraitis Plastic Surgery uses the newest CoolSculpting applicators on the market to improve patient comfort and reduce cycle times. They also understand the most effective techniques for placing the applicators; their approach helps to eliminate fat more precisely and can reduce the overall number of treatments. As a result, you can expect to achieve a firmer, more contoured body sooner.
Eliminate stubborn fat from problem areas with non-invasive CoolSculpting treatment. Palm Harbor and Clearwater patients can contact Moraitis Plastic Surgery online or by phone at (727) 773-9796.
---