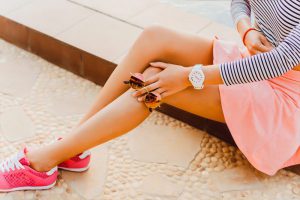 The thighs and legs can be a tricky area of weight loss for women. Even patients who spend endless hours at the gym can struggle with stubborn leg fat. In the Palm Harbor area, many patients find that they avoid wearing stylish bathing suits or shorts due to self-consciousness of these areas. At Moraitis Plastic Surgery, we offer two surgical options to help you say goodbye to unwanted leg jiggle!
Procedure Options
Liposuction
Liposuction is a very popular option for contouring the legs. Not only can the thighs be shaped, but also the buttocks and calves in order to create a shapely, proportionate body contour. Dr. Moraitis performs a variety of liposuction techniques, including power-assisted liposuction, ultrasonic liposuction, and tumescent liposuction. A consultation can help to determine which technique is best for achieving your cosmetic goals.
Thigh Lift
Another option for shaping the thigh area is a thigh lift. A thigh lift can help to correct sagging skin and fat on the thighs. Patients who have lost a significant amount of weight can often benefit from this procedure, though patients who are simply unhappy with lax thigh skin often undergo this surgery as well. There are multiple thigh lift techniques, including a limited medial thigh lift, which addresses the skin on the upper inner thigh, the medial thigh lift, which addresses the skin on the entire inner thigh, and a lateral thigh lift, which address the skin on the lateral thighs and buttocks.
CoolSculpting®
CoolSculpting® is a great option for those with fat deposits on their inner and outer thighs. This FDA-approved fat freezing procedure freezes fat without harming surrounding tissues. Using a special applicator, fat is frozen and killed for long-lasting results. There is little to no downtime associated with this procedure, so patients can return to their everyday routines as soon as they feel comfortable.
If you are avoiding wearing bathing suits or other clothing that you like due to the appearance of your legs, these treatment options may be able to help. Contact Moraitis Plastic Surgery today to schedule a consultation.