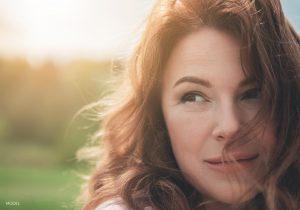 Many Clearwater residents who are considering getting a facelift are understandably curious about where the incisions will be made for the procedure. After all, men and women wanting to refresh and rejuvenate their face to look more youthful are typically interested in natural-looking results. It makes sense that they want to ensure their scars won't be visible to others.
Rest assured, when you choose to get a facelift from skilled plastic surgeon Dr. Moraitis, he will disguise your incisions in your hairline and underneath your chin. In fact, nobody will know that your newly refreshed look is from plastic surgery! The only way other people will see your scars is if you choose to show them off.
Incision Location for Addressing the Mid to Lower Face
The first incision that Dr. Moraitis makes on his Clearwater facelift patients is to address problems areas on their mid to lower face. To provide him with full access to your underlying facial structure, he makes an incision in your hairline above your ear, around it, and down below.
While many patients are surprised to learn that this incision is long, you don't need to worry about people seeing it. Because it is made in your hairline, it will heal so that your hair hides the scar. Nobody will see it unless you intentionally show it to them!
Incision Location for Addressing Jowls and the Neck
Some Clearwater residents don't realize that a facelift is actually a procedure to address skin sagging in your jowls and neck, too. In order to fix these issues, Dr. Moraitis makes a small incision underneath your chin. Although it's not disguised, since this incision is made in such an inconspicuous place that you rarely display (unless you're purposely tilting your head all the way up) people will not notice this scar, either.
Where Incisions Aren't Made
Facelift patients can rest assured that they will never have an incision made directly on their face. This is a relief to many, as they don't want visible scarring or any telltale signs that they've had plastic surgery performed.
Learning More and Scheduling an Initial Consultation
If you're interested in learning more about how Dr. Moraitis can help you have a more youthful facial appearance – without visible scars – the next best step for you to take is to schedule a consultation at Moraitis Plastic Surgery. During this appointment, potential Clearwater patients will be screened for surgery eligibility, discuss their problem areas and desired outcomes, have a facial examination performed, and listen to Dr. Moraitis explain the procedure in detail, as well as answer their questions about the elective plastic surgery.
To schedule your initial consultation, call/text Moraitis Plastic Surgery today at (727) 773-9796.