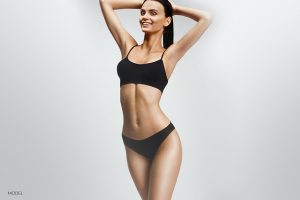 Are you a Palm Harbor resident with stubborn fatty deposits on your body – such as your abdomen, flanks, arms, thighs, or chin – that just won't go away despite your diet and exercise regime? Are you ready for a "new you," but don't want to go under the knife for plastic surgery? If you think liposuction is the only solution for getting rid of those fatty deposits on your body, then Dr. Moraitis of Moraitis Plastic Surgery has news for you!
An exciting cosmetic procedure called CoolSculpting is a great, non-surgical approach to removing unwanted fat cells, and it's taking Palm Harbor by storm. This in-office fat killing procedure, which involves placing an applicator onto your skin that freezes your fat cells, can be performed over your lunch break with no downtime!
What Is CoolSculpting?
CoolSculpting is a non-surgical fat reduction procedure. However, it is not intended for weight loss. Instead, the technology works best on men and women who are at or near their goal weight but still have stubborn pockets of fat that don't respond to diet or exercise. It's also a great, non-surgical way to get rid of a double chin.
CoolSculpting technology works by freezing your fat cells to death during your session, in as little as 35 minutes. While many patients report that the applicator is cool to the touch, it is a painless procedure that doesn't require a local anesthetic. In fact, many patients who choose this fat reduction technology surf their phones, or even nap during their session.
How It Works
Many Palm Harbor patients of Dr. Moraitis are curious about how exposure to extreme cold can kill fat cells. The answer is that the cold freezes them and kills them, and then your body eliminates them using your natural elimination process.
How Soon Will It Take for Me to See Results?
Any time you have a cosmetic procedure performed, individual results will vary – including the amount of time needed to see your final results. However, Dr. Moraitis finds that some of his Palm Harbor patients begin to see a trimmer, sleeker self in as little as 3 weeks! Your most noticeable results should be evident about 2 months after your session. In addition, your body will continue eliminating your frozen, dead fat cells for about 4 months after your session.
Can I Really Have It Done Over My Lunch Hour?
Whether you decide to show up an hour late to work one morning, take a long lunch break for travel to and from our practice, or leave a little early, you really can have the procedure performed in such a short amount of time. And because it's completely non-surgical, you have no downtime after your session and can immediately begin your regular activities. Stay at home parents can even drop their kids off at school, come to our practice for a session, and be ready to go by end-of-day carpool time!
Learn More How to Tone Up Without Surgery
If you're interested in learning more about CoolSculpting, don't delay. Call us today to speak with one of our certified providers, and schedule your appointment now by calling (727) 773-9796.