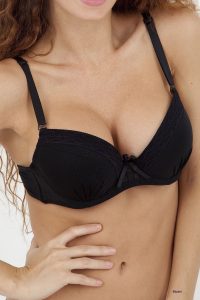 If you're wondering if your reason for desiring a breast augmentation is common, then look no further. While there are several reasons women desire breast implants, there are a few reasons that Dr. Moraitis hears more often than not. Here's a list of 3 common motivators why women choose to have a surgically enhanced bust.
Feeling As Though You Never Fully Developed
Remember those awkward late elementary and middle school years, when your classmates seemed to start developing breasts overnight, and you kept wondering if you were next? Well, for some Pinellas County women, even though puberty was years ago, they still feel like they never fully developed. And they're still wishing their breasts were bigger.
Whether you have a natural A or B cup, or your breasts just look small on your frame or out of proportion with the rest of your silhouette, you may still be wishing to have the breasts you've always wanted. This is a very common motivator that compels Pinellas County women to seek out plastic surgeon Dr. Moraitis for a breast augmentation surgery. If this sounds like you, know that you're not alone!
Wanting More Cleavage
Whether you want to "WOW!" your significant other (or find one!) while wearing a bikini or look great on a night out with the girls, many local women desire breasts that attract a little more attention than their more conservative, naturally developed breasts.
Desiring to Even Out Asymmetrically Sized or Shaped Breasts
Not every woman who visits Moraitis Plastic Surgery for a breast augmentation consultation necessarily wants to go bigger. Some are happy with the size of one of their breasts – but find that the other part of the pair is lacking in shape and/or size.
All women are born with some degree of breast asymmetry. For most women, the differences between their breasts' shape and size is unnoticeable. For others, it's obvious.
Uneven breasts are a common motivator for Pinellas County women to seek out breast implants. By choosing the best size for your breasts – or perhaps just the smaller or misshapen breast – you can have the symmetry in your bust that you've always wanted.
Scheduling Your Breast Augmentation Consultation
Whether your unique reason for wanting larger breasts matches these 3 common motivators or not, Dr. Moraitis has the skill and experience to help you achieve your desired look. Schedule an initial consultation with him today so you can explain your problem areas and the look you hope to achieve. Dr. Moraitis will perform a breast examination, determine if you're a good candidate for elective plastic surgery, and begin working on a personalized surgical plan for you.
To schedule an appointment today, call or text Moraitis Plastic Surgery at (727) 773-9796.