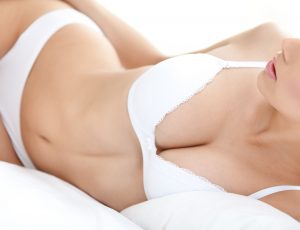 Most Clearwater women who come to Dr. Moraitis for a breast augmentation are seeking natural-looking results. They want their breasts to be bigger, but more proportionate to their current shape and to accentuate the curves they already have on their body. Many of Dr. Moraitis' patients also ask him how to minimize scarring after a breast augmentation. The reason: these women don't want the telltale signs that they've had work done.
It's important for Clearwater women to recognize that surgeons do their very best to hide breast augmentation scars. There are three incision types in which breast implants can be placed:
Inframammary, which is when an incision is placed where the lower breast crease meets the ribcage. With this incision type, your scar is hidden by a bra line, bikini line or the breast itself.
Periareolar, in which an incision is made along the bottom curve of the areola, disguising the scar in the place where your breast color naturally changes on your areola and breast mound.
Transaxillary, in which a small incision is made in your underarm, and your breast implants are inserted via a channel that Dr. Moraitis makes.
Additionally, some Clearwater breast augmentation patients who are concerned about scarring choose saline breast implants. Because they are filled after they are already placed, they require a smaller incision.
Tactics for Minimizing Scarring
While, as you can tell from the information above, that breast augmentation surgery is strategically designed to hide scars, some Clearwater women are still concerned about the appearance of scars, especially in intimate situations. For these women, Dr. Moraitis recommends the following three options for minimizing the appearance of scarring after a breast augmentation:
Breast Massage. Breast massage which should always be performed after a Clearwater breast augmentation to prevent excessive internal scarring – a condition called capsular contracture, can help to reduce the appearance of scarring at the breast site. To correctly perform a breast massage, massage the breast and move the breast implant up, down, in and out as soon after your surgery as Dr. Moraitis advises.
Topical Ointments. Topical ointments, including certain vitamin-fortified creams, are known to help reduce scarring. If you are interested in trying this method to reduce scarring, talk to Dr. Moraitis first to get recommendations on ointment type, brand and how soon after your surgery you can apply the ointment.
Laser Treatments. Laser treatments may be necessary to reduce the appearance of scarring for a small percentage of Clearwater breast augmentation patients who develop an undesirable looking scar or unusually thick, raised scars which are called keloid scars.
A final tip to help with proper healing is to not smoke during your breast augmentation recovery period. Because smoking constricts blood vessels, it can reduce the flow of blood to your suture site, thus making healing more difficult and can slow your recovery process.
Schedule a Consultation with Dr. Moraitis to Ask All Your Breast Augmentation Questions
If you have questions about a breast augmentation – and we're sure you do – the best thing you can do is schedule an initial consultation with Dr. Moraitis. During this appointment, he'll fully explain the procedure to you, determine if you are an eligible candidate for the surgery, and answer any questions you have.
To schedule an initial consultation today, call Moraitis Plastic Surgery at (727) 773-9796.