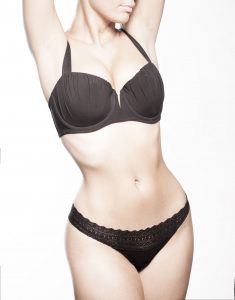 Dr. Moraitis of Moraitis Plastic Surgery sees many potential Clearwater tummy tuck patients every year. And during his initial consultations with them, he spends a significant amount of time trying to understand their concerns and goals for abdominoplasty, so he can determine if the procedure is right for them. During these appointments, Dr. Moraitis often hears statements, or shall we say myths, about the procedure that just aren't true. Here are 4 of the top myths he hears, and the real facts.
Tummy Tucks are Just for Women
While it's true that most Clearwater patients who consult with Dr. Moraitis about a tummy tuck are in fact female, Dr. Moraitis commonly performs the procedure on men every year. The reason – desiring a flat abdomen isn't solely a woman's issue. Men, too, can experience excess, drooping skin in their stomachs, especially if they've recently lost a significant amount of weight. So come on men, schedule a consultation. This procedure is for you, too! 
I'm Too Old for a Tummy Tuck
For some reason, some Clearwater patients seem to think that once they reach a certain age, the only plastic surgery procedures that are appropriate for them are those that turn back the hands of time, such as a facelift. But the truth is that abdominoplasty patients range in age, and every year Dr. Moraitis performs the procedure on women and men in their 40s, 50s, and 60s, too
Tummy Tucks Must Be Performed with Liposuction
Every plastic surgery procedure is different, and every Clearwater plastic surgery candidate has a different treatment plan, even if they're looking for the same results. While liposuction can be performed along with a tummy tuck to help sculpt the abdomen, it may not always be necessary. Only a consultation and examination with Dr. Moraitis will tell you for certain which procedure or procedures are right for you to get the flatter abdomen you desire, which is why you should see him for a consultation before getting it stuck in your head that you'll need multiple procedures done to get the look you want.
A Tummy Tuck Will Help Me Lose Weight
Boy, we wish this one were true. It would be great if Dr. Moraitis could help potential Clearwater tummy tuck patients lose the pounds they want to shed while re-sculpting their abdomens, too. But, that just isn't the case. In fact, before you get abdominoplasty, you should be at or near your goal weight, because the surgery isn't a weight loss procedure. You'll also need to be following a diet and exercise regimen to maintain your results, as future weight gain can negate them.
Schedule a Consultation with Dr. Moraitis Today
As you can see, there are several myths circulating on the Internet about plastic surgery that just aren't true. Ultimately, the best way to debunk them for good is to schedule a tummy tuck consultation with Dr. Moraitis. It's during this appointment that he'll explain the procedure to you in detail, and you'll be able to ask any questions you have – including those you've read about online.
To schedule a consultation with Dr. Moraitis today, call our Clearwater offices at (727) 773-9796.