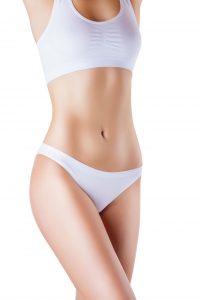 CoolSculpting is an exciting new technology that destroys fat cells for good – all in a non-invasive, outpatient procedure that Clearwater patients can have performed before they go to work, during their lunch break, or after taking off a little early from your job. CoolSculpting works because the applicator freezes your treatment areas of stubborn fat cells that just won't go away despite your diet and exercise regime, and freezing and eliminating them for good.
At Moraitis Plastic Surgery, a CoolSculpting-certified practice, your CoolSculpting experience will be performed entirely by Dr. Moraitis himself and the RN and Clinical Coordinator he's had on staff since day one, Ali. Unlike other Clearwater area plastic surgery practices which may have a medical assistant perform the CoolSculpting procedure with the applicator, at Moraitis Plastic Surgery, Registered Nurse Ali always consults alongside Dr. Moraitis for your treatment and performs the procedure herself. After the approximately 35 minute procedure, which you'll likely need to have performed twice to receive optimal results, Nurse Ali performs a quick 2 minute massage of your treatment area which has shown to potentially increase the efficacy of your treatment by up to 68%.
Is CoolSculpting Right for Me?
CoolSculpting is an excellent procedure for Clearwater men and women who have areas of fat that won't respond to diet and exercise. It's also a great procedure for patients who may not be eligible for more invasive plastic surgeries due to medical conditions or medications they must take.
But, CoolSculpting isn't for everyone. During their consultations with potential Clearwater CoolSculpting patients, Dr. Moraitis and Ali often find that the candidate would be best treated by liposuction or a tummy tuck. This is another benefit of having a plastic surgeon and nurse consult with you and perform your CoolSculpting procedure, versus a physician's assistant. A plastic surgeon and plastic surgeon's Registered Nurse and Clinical Coordinator have the experience and skill to spot good candidates, and to know when other procedures are better for them.
What is the CoolSculpting Experience Like at Moraitis Plastic Surgery?
When you make an appointment for CoolSculpting at Moraitis Plastic Surgery, Ali will likely be one of the first people you speak with to coordinate your appointment. On your actual appointment day, she and Dr. Moraitis will consult together with you to review your problem areas and understand what type of results you are hoping to achieve, which will allow them to formulate a personalized treatment plan for you including how many CoolSculpting sessions you'll need to achieve your desired results. From there, RN Ali will take over and mark your treatment areas, and use the applicator to perform your CoolSculpting session for a little over half an hour. Most patients describe CoolSculpting as cold, but painless.* In fact, many patients read, surf their smartphones or even nap during their procedures. After your CoolSculpting session is complete, you can immediately resume your normal activities, including exercise.
Schedule a CoolSculpting Session Now
We know it seems too good to be true, but you really can kill fat cells for good without going under the knife.
To schedule a CoolSculpting session with Dr. Moraitis and RN Ali today, call our offices in the Clearwater area at (727) 773-9796.
*Individual Results May Vary