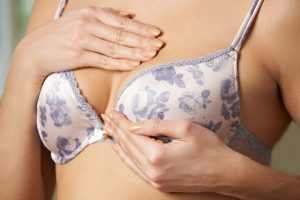 As with any type of cosmetic surgery, the decision to undergo breast augmentation is a big one. It is important that a patient thoroughly understands the basics of the procedure, as well as the options she has when it comes to the final look. Most patients are aware that they can choose from a selection of breast implant types, but did you know that you should also consider breast implant profiles? Read on to learn more about breast implant profiles.
The profile of a breast denotes to how far an implant projects away from the chest wall. Different implants offer different levels of projection, so it is important to consider this when choosing a breast implant. There are three main types of implant projections:
Low Profile Implants
These types of implants often appear moderately flat, and project minimally from the chest. This type of implant tends to be rarely used since it does not provide the amount of projection that most women prefer.
Moderate or Midrange Profile Implants
Moderate or midrange profile implants often result in the most natural-looking breasts. There is more projection present than low profile implants, but not as much as high profile implants. Women with small or narrow chests can often benefit from moderate profile implants.
High Profile Implants
This type of implant offers maximum projection, and may appear less natural on certain patients. This type of implant is best for petite women with a narrow chest wall.
If is important to schedule a consultation with Dr. Moraitis to discuss these options, as well as create a cosmetic plan to help achieve your individual goals. If you are located in the Tampa area and are interested in breast augmentation surgery, contact us today to schedule your consultation.