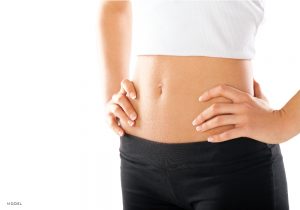 Are you trying to get that pre-baby tummy back, to no avail? Have you done more sit-ups and planks than you can count, but still have loose and sagging skin in your abdomen? Do you have a bulge in your belly that doesn't seem like it's fat, but won't go away?
If so, join the club. Many Pinellas County women visit Dr. Moraitis in the year after having a baby asking about their tummy tuck options. Ready to get back into their pre-baby clothes and bikinis, these moms are ready to get their flat bellies back – now.
When they meet with Dr. Moraitis about getting a tummy tuck, also known as abdominoplasty, they often ask, "Can I have more kids after surgery?" While the answer is yes – there's nothing about abdominoplasty that prohibits you from having future children – Dr. Moraitis prefers his tummy tuck patients are certain they are done having children before they commit to the surgery.
Why Does Dr. Moraitis Want Me to Wait to Get a Tummy Tuck Until My Family's Complete?
Sure, some Pinellas County plastic surgeons may be willing to perform an abdominoplasty on a brand-new mom before her baby even turns one, despite the fact she wants to give her little one a sibling in the future. But those doctors don't have their patients' best interests in mind. Dr. Moraitis does.
You see, Dr. Moraitis is interested in your long-term results. He knows that a Pinellas County mom who gets a tummy tuck now, but has a baby in the future, is bound to be back in his office a few years later with the same problems as before – excess skin, sagging skin, and an abdominal bulge often caused by separated abdominal muscles, which is a very common side effect of pregnancy. Dr. Moraitis doesn't want you to have to get plastic surgery after every baby. Instead, he wants you to choose him for one abdominoplasty that will yield results that will last for years to come – so long as you practice proper diet and exercise habits to avoid future weight gain.
Future weight gain is the exact reason that you should wait to have an abdominoplasty until you're done having all your kids. You gain weight and stretch out your abdominal skin with every pregnancy, as well as run the risk for separating your abdominal muscles. If you get an abdominoplasty after baby #1, you run the risk of being back at square 1 after baby #2 is here. And nobody wants to pay to get the same plastic surgery procedure twice when they really don't need to!
Dr. Moraitis' Ideal Abdominoplasty Patient
To provide you with the best possible, long-term results as well as a healthy outcome, Dr. Moraitis likes his Pinellas County abdominoplasty moms to be:
Certain they are done having kids, so they won't run the risk of needing a follow-up procedure in the future
At or near their goal weight
In good overall health, both mentally and physically
Non-tobacco users
Contact Moraitis Plastic Surgery to Schedule a Consultation
If you're done having children and desire an abdominoplasty, Dr. Moraitis may be able to help. Contact his Pinellas County office today to schedule an initial consultation at (727) 773-9796. During this appointment, he'll listen to you describe your desired outcome, examine your abdomen, and take a full medical history to confirm you're ready for surgery.