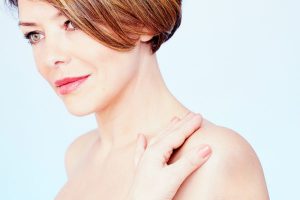 A double chin is a common, though pesky annoyance that many people live with. Many patients who live with submental fullness wish to eliminate their double chin, but do not want to undergo invasive surgery. At Moraitis Plastic Surgery in Palm Harbor, we offer an alternative treatment to eliminate submental fullness: Kybella. Read on to learn more about this treatment option.
What to Expect
Kybella is made up of deoxycholic acid, a substance that occurs naturally in the body to break down the absorption of fat. When Kybella is injected into submental fat, it destroys the fat cells. Once these fat cells are destroyed, they are gone for good.
During your Kybella treatment session, Kybella will be administered by Dr. Moraitis with multiple small injections into the treatment site. The specific number of injections will depend on your specific cosmetic goals, as well as the amount of fat present. Some patients may require two treatment sessions for optimal results.
Outcome
There is little downtime associated with this treatment, which means you can be back to work in no time. Some patients may experience mild swelling, bruising, or numbness, though this should subside with time. Kybella treatments are meant to produce long-lasting or permanent results, since the destroyed fat cells cannot restore themselves. This means you can enjoy a slimmer, younger-looking chin and neck profile long-term!
If you are interested in Kybella treatments, contact our office today to schedule a consultation. We would be happy to answer any questions you may have.