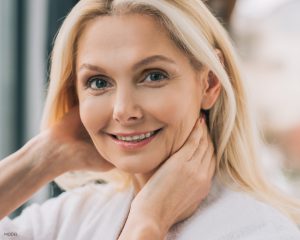 At his Clearwater area plastic surgery practice, Dr. Moraitis hears a particular question quite often from locals considering a facelift – "How much younger will the surgery make me look?"
It's important to remember that with any plastic surgery procedure, individual results will always vary. A facelift can address sagging skin in the mid to lower face and neck, sunken and hollow cheeks, and wrinkles in the mid to lower face. However, your unique results are going to depend on a variety of factors, including the presentation of problem areas at the time of surgery, your skin laxity, how your body heals, and genetics.
Typically speaking, though, a facelift can help a Clearwater resident wipe years off their facial appearance. When you trust Dr. Moraitis of Moraitis Plastic Surgery, he's usually able to help patients achieve a look of 10 to 15 years younger than their previous appearance.
It's Not All About Looking as Young as You Possibly Can
When it comes to desired facelift results, plastic surgery patients need to remember that they need to be looking for more than a particular age when it comes to the outcomes they want. After all, most patients who elect to get facial plastic surgery want to turn back the hands of time, but still look natural and good for their age. They don't want telltale signs that they've had work done, such as that "wind-blown" look you see from facial plastic surgery procedures gone awry.
The important thing about facelift results is that you feel happy and confident with the outcome you achieve. For example – perhaps due to genetics or past habits like smoking, your face has aged faster than your actual age. In this case, your goal might not be to look younger, but for your facial appearance to match your actual age.
Facial plastic surgery is also about giving you the confidence you need for social situations. After all, in Clearwater, you're always showing at least you face. There's no need for residents to bundle up their faces when you live in the warm Floridian sun. If you feel as though your facial appearance doesn't match your age, you may want to surgically address the issue so that you feel confident wherever you go.
What Results Can You Expect?
During an initial consultation with Dr. Moraitis at Moraitis Plastic Surgery, Clearwater residents will have an examination of their face and neck performed. With this thorough evaluation of your facial presentation and skin laxity, Dr. Moraitis will better be able to predict the anticipated results from your elective facial plastic surgery procedure. Remember – results always vary by person, so there's no one-size-fits-all answer to this question.
Scheduling A Consultation With Dr. Moraitis
If you're ready to put your best face forward and turn back the hands of time, Dr. Moraitis can help. The first step to achieving your desired look is to schedule an initial consultation at Moraitis Plastic Surgery. To do so, call/text our practice today at (727) 773-9796.