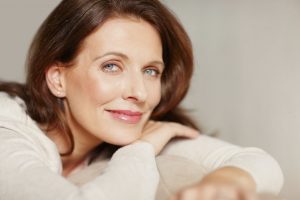 Many Clearwater men and women want to have a facelift, either to address loose cheeks or sagging jowls, excessive folds or wrinkles, or lost facial volume. But, just as much as these potential Moraitis Plastic Surgery patients want to look and feel between 10 and 15 years younger*, they also want to hide the telltale signs that they've had work done. We've all seen photographs of individuals, including celebrities, who look windblown or "done up" due to a facelift. Nobody wants results like that! Nobody wants visible scarring, either, which is why Dr. Moraitis gets so many questions about where and how he makes incisions for facelift surgeries.
You Can Trust Dr. Moraitis' Artistic Skill
While everybody and every Clearwater facelift is different, Dr. Moraitis always works his hardest to disguise facelift incisions and scars. Where your facelift incisions will be made all depend on what issues you are having addressed:
To treat neck muscle laxity and platysmal bands, Dr. Moraitis generally makes a small incision underneath the chin as part of his neck lift/facelift approach.
For midface correction, Dr. Moraitis usually makes incisions in the hairline, above and around the ear.
Both these incision types are easily hidden during your day to day activities and functions, so nobody needs to know your "secret" – that you've had work done.
Am I a Good Facelift Candidate?
Simply desiring a facelift doesn't automatically qualify you for surgery. Every year, Dr. Moraitis meets with several potential patients, whom he carefully screens. Criteria for becoming one of Dr. Moraitis' patients include:
Disclosing your full medical history to ensure you are in good general health.
Passing a pre-op appointment with your Clearwater general physician to ensure you are healthy enough for elective surgery and general anesthesia, which you'll receive to put you to sleep on the day of your surgery and make you completely unaware of the procedure.
Listening to Dr. Moraitis explain the facelift procedure and anticipated results, and communicating back to him that you have realistic expectations.
Being in good overall mental health.
Your Facelift Experience on Surgery Day
When it comes time for your Clearwater facelift, you'll arrive at the surgical center having washed your hair the night before, to reduce the risk of infection and having fasted since 10 pm or midnight the night before, depending on your surgery time. Before your facelift, you'll be prepped by the preoperative surgical team. For your surgery, you'll receive general anesthesia, which not only means you won't remember a thing about the procedure, but because you've received these strong medications you won't be able to drive yourself home after you've been discharged.
The amount of time you'll be under will all depend on your individualized treatment plan and the unique results you are attempting to achieve. After your surgery, you'll awaken in a recovery room, where you'll be monitored as you come out of general anesthesia. Most Clearwater men and women are able to go home the same day as their facelift procedure*.
Schedule Your Initial Consultation Today
To learn more about facelift incisions, scarring, and the overall procedure, the best thing you can do is talk to Dr. Moraitis himself.
To schedule an initial consultation, call our offices today at (727) 773-9796.
*Individual Results May Vary