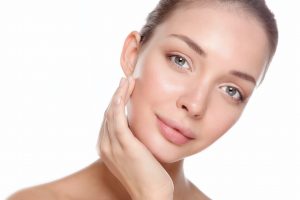 Your skin is sensitive. Unfortunately, many of us don't realize how sensitive until years of being out in the sun without sunscreen, forgetting to take your makeup off night after night, and not using a full skin regimen. All of those small little things can lead to wrinkles at an older age. You may take a look in the mirror today and say, "Wow – if only I knew then what I know now." However, you don't have to look back on your adventures with regret; with the new filler treatments of today, you can improve the quality of your skin in just moments.
This year, you will see an all new treatment on the market: Juvéderm® Vollure. This treatment has already been used in many areas of Europe and could possibly be your solution to better skin.
Introducing…
Juvederm® Vollure
If you're up-to-date on European injectables, you may be more familiar with the term Juvederm® Volift, which is what Juvéderm® Vollure is referred to in Europe. This product is a temporary filler for your face to tighten your skin and take away wrinkles to bring back your younger-looking facial contour. Juvéderm® Vollure is made to specifically target moderate to severe nasolabial folds around the mouth, and results can last up to 18 months!
This all-new injectable can give you better, longer-lasting results than other options on the market today. Be sure to contact Florida's very own double board-certified plastic surgeon, Dr. Moraitis of Moraitis Plastic Surgery to learn more about this latest injectable.