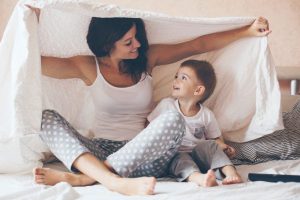 Pregnancy is an exciting and beautiful experience that can change your life forever. It can also change your body in many ways. For women who are dissatisfied with the appearance of their body following pregnancy, there is an option to boost your self-confidence: a mommy makeover. Read on to learn more about what a mommy makeover can do for you.
A mommy makeover is a combination of plastic surgery procedures combined. The most common procedures done during a mommy makeover as a breast augmentation, breast lift, breast reduction, liposuction, buttock lift, and tummy tuck. A mommy makeover can benefit many areas of the body, including the:
Breasts- When a woman is pregnant, the glands in the breasts enlarge preparing for the production of milk. Hormonal changes can also increase the size of the breasts, as well as cause weight gain. When pregnancy hormones disperse, the breasts will reduce in size, often leaving behind a sagging appearance. A breast augmentation, lift, or reduction can help to create the breast contour you desire.
Abdomen- During pregnancy, the abdominal skin stretches, and the abdominal wall is distorted to make room for the growing fetus. This can cause the rectus muscles to separate, leading to bulges in the abdominal wall. A tummy tuck is a great solution to this problem, as it can eliminate tummy pooch while tightening the abdominal muscles. Liposuction can also be helpful in removing any unwanted abdominal fat.
Buttock- Weight gain during pregnancy can lead to drooping areas of the body, including the buttock. A buttock lift, or a thigh lift can help to remedy this issue, lifting unwanted sagging skin to create a sleek, slim silhouette.
It is important that patients who are planning on significant weight loss or future pregnancies wait to undergo this procedure, as results can be altered. If you are located in the Tampa or Palm Harbor areas and are interested in a mommy makeover, contact us today to schedule your consultation.