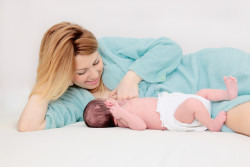 For many plastic surgery patients, it's not about receiving the perfect body, but restoring their figure and shape that they once had. This is especially true for patients who seek a "Mommy Makeover" procedure who desire their pre-pregnancy body. This makeover is actually three procedures in a single session, including a tummy tuck, breast lift and breast augmentation. Pregnancy can take its toll on a woman's figure, and many women find that diet and exercise alone can't give them back their flat stomach or full breasts.
To accommodate the baby, the skin stretches leaving the abdominal skin sagging, even on a very fit body. It's also very common for the breasts to lose volume and sag after childbirth. As the name suggests, this makeover is all about helping mothers, who are very busy taking care of their children while juggling hectic schedules. Combining these procedures is helpful because it also decreases time to recover from multiple surgeries.
Another benefit of a "Mommy Makeover" is saving the patient money. One surgery means only one fee for operating room and anesthesiologist costs. Patients who receive this procedure also feel satisfied and achieve their desired results after just one surgery.
Even the psychological impact of this procedure can make a huge difference. This surgery allows patients to see the overall affects all at once, which can really enhance the dramatic outcomes for them.
Although the Mommy Makeover is the most common combination of surgeries, there are other procedures that can be combined safely together, while offering the same benefits stated above. Ultimately, at our office in the Palm Harbor and Clearwater, FL area, we understand each patient has problem areas that they want to address the most. Combining certain procedures can not only be safe, but it can be cost-effective, save valuable time, and enhance your desired results.
At our practice, we will provide a full consultation to address your areas of concern and suggest the best possible options for your desired look. Call us for your "Mommy Makeover" or plastic surgery consultation today.