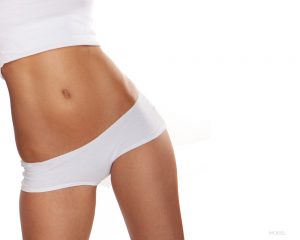 Every year, Dr. Moraitis sees men and women from the Clearwater area who are interested in having a tummy tuck and want to learn more. And many times, those patients visit Dr. Moraitis with a misguided understanding of what tummy tuck is, and what it isn't. Sometimes that information comes from a friend or family member, and other times it comes from a blog or article that has provided them with incorrect information. Dr. Moraitis wants to correct those misconceptions and myths for his prospective clients. You should be well-informed about any procedure you have, and it's no different with a tummy tuck. We're here to debunk some of those common tummy tuck myths for you.
1. I can fix my postpartum belly if I exercise enough.
While maintaining a healthy lifestyle through a consistent exercise regimen is important for your overall health, exercise is only meant to help you tone your muscles and lose weight and excess fat. It cannot repair separated abdominal muscles left over from pregnancy or shed the skin that is left hanging from your abdomen. During a tummy tuck procedure, Dr. Moraitis is able to remove any excess skin or tissue and stitch up separated abdominal muscles when needed.
2. Only women have tummy tucks, not men.
This is a common misconception among men in Clearwater. However, women are not the only ones who can have a tummy tuck. Dr. Moraitis does perform most of his tummy tucks on women, but he does see several men every year to this procedure as well. Most often, men who look into having a abdominoplasty are those who have lost a significant amount of weight are unhappy with the excess skin they are left with. Dr. Moraitis can correct this problem by performing a tummy tuck procedure.
3. I should be done having children before having a tummy tuck.
While it's true that Dr. Moraitis suggests Clearwater patients wait to have a tummy tuck until after they have finished having children, this doesn't mean you can't have future pregnancies after having a tummy tuck procedure. There isn't anything dangerous about getting pregnant after a tummy tuck but waiting to have your tummy tuck until after you're done having children will give you long-lasting results. However, if you are a young female who has recently lost a large amount of weight and you have excess skin leftover on your abdomen, there's no reason to wait to have a tummy tuck. You've worked hard to shed the pounds, and you should be able to have the body you deserve now.
4. I will lose weight with a tummy tuck.
Unfortunately, many patients of Dr. Moraitis believe they can lose weight through a tummy tuck procedure. This is simply not the case. A tummy tuck is designed to shape and contour your abdomen by removing small amounts of excess fat and skin. This is why Dr. Moraitis recommends you be at or near your goal weight before having a tummy tuck procedure. If your goal is to lose weight, Dr. Moraitis will be able to recommend the appropriate procedures to help you reach your goals.
Schedule Your Consultation With Dr. Moraitis Today
If you're ready to take the plunge and discuss the tummy tuck procedure in detail with Dr. Moraitis, he and his staff are here to help! Dr. Moraitis is a dual-board certified surgeon and over 15 years of experience performing cosmetic procedures for men and women in the Clearwater area. Call Moraitis Plastic Surgery today at (727) 773-9796 to schedule your initial consultation with Dr. Moraitis.