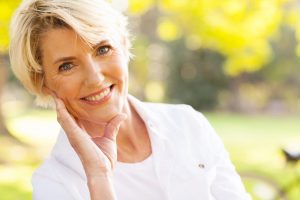 Many of Dr. Moraitis' Clearwater facelift patients are curious to learn about the different techniques he uses in the operating room. This is one of the reasons Dr. Moraitis spends so much time explaining his patients' unique surgical plans to them and making sure they understand the procedure they're about to have. He wants you to be as informed as possible before you're wheeled into the operating room.
When it comes to facelifts, there are 4 different techniques that Dr. Moraitis employs. These are:
The traditional approach
A short scar approach
Surgical plans for women
Surgical plans for men
The exact techniques Dr. Moraitis will use for your facial rejuvenation surgery is, of course, going to depend on how your face currently presents, your desired results, and whether or not you're male or female.
Here's an explanation of each of the four facelift surgery approaches Dr. Moraitis uses for his Clearwater patients, and why you might be a good candidate for one technique versus the other.
The Traditional Approach
With a traditional procedure, Dr. Moraitis makes one long incision. It starts in the hairline at the temple, and then traces down, around the ear and into the bottom of the hairline around the jaw. This incision provides Dr. Moraitis with optimal access to Clearwater patients' underlying facial structure. To address sagging jowls, Dr. Moraitis makes a small incision underneath the chin, which, once healed, will only be noticeable if you are purposefully lifting your head all the way up. Most patients who get a facelift will undergo this traditional approach.
The Short Scar Approach
Typically reserved only for patients under age 60, the short scar approach is an alternative technique Dr. Moraitis uses on his Clearwater patients when they are mainly concerned about their mid-face only, and desire less scarring. As the name of this technique suggests, the short scar approach allows Dr. Moraitis to make a shorter incision in the temporal hair or hairline.
The incision starts at the temple and then goes downward. It then goes to the front of the ear and earlobe, disguised in the sideburn hairline. Sometimes, the short scar is a little longer and also goes behind the ear to a small degree.
This procedure is slightly different between men and women. To reduce the chance for distortion of the sideburn, Dr. Moraitis typically makes a horizontal "dart" incision" just below a male patient's sideburn.
The result of this incision technique is that Dr. Moraitis is able to address mid-face issues, leaving behind scars that are even more disguised than traditional ones. This isn't the best surgical plan, however, for Clearwater patients who need the lower face and jowls addressed.
Different Approaches for Men and Women
Dr. Moraitis has a different surgical approach for men versus women because men:
Typically have sharper, more angular features of the lower face including the jaw, chin, and neck
Usually wear their hair shorter than women, requiring Dr. Moraitis to use special techniques to disguise scars
For male patients, Dr. Moraitis uses different approaches so that he can both provide natural looking results that accentuate typical male facial features, while also hiding scars in patients with shorter hair.
Find Out Which Techniques Are Right for You
If you're interested in getting a facelift yourself, the only way to know which surgical techniques will best help you is to consult with Dr. Moraitis. During an initial consultation, he'll examine your face, listen to your concerns about problem areas and desired outcomes, and prepare a personalized treatment plan based on your unique facial presentation.
To schedule a consultation, call Moraitis Plastic Surgery today at (727) 773-9796.