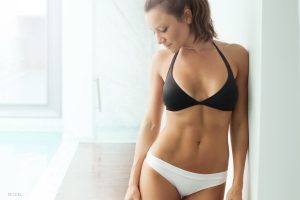 Do you have separated abdominal muscles, medically known as diastasis recti? Have you tried all the recommended exercises, but the bulge and separation between your muscles are still visible on your abdomen? If so, you may want to consider getting a tummy tuck, also known as abdominoplasty, by Pinellas County plastic surgeon Dr. Moraitis.
What Are Separated Abdominal Muscles?
Separated abdominal muscles are just that – an issue that occurs when the muscles that form the abdominal wall separate. It's a very common side effect of pregnancy, and one of the reasons so many Pinellas County women seek out Moraitis Plastic Surgery for a tummy tuck.
The Importance of Surgically Addressing Diastasis Recti
If you've tried all the recommended exercises for fixing diastasis recti on your own, but still have visibly separated muscles, then it's time to consider surgical intervention. The reason – there's nothing else you can do to physically make these muscles reattach. Only the skilled hand of a plastic surgeon like Dr. Moraitis can stitch up separated abdominal muscles to get rid of the bulge or ridge you see every time you lift up your shirt.
How a Tummy Tuck Helps Separated Abdominal Muscles
If you have separated abdominal muscles – plastic surgery can help. An abdominoplasty gives plastic surgeons like Dr. Moraitis direct access to your abdominal muscles. During the procedure Dr. Moraitis will repair the separated muscles by stitching them back up in a corset-like manner. Additionally, Dr. Moraitis can address other abdominal appearance issues you may have, including excising loose and sagging abdominal skin, which is another side effect that postpartum women and weight loss patients often experience.
The Proof Is in the Results
For many Pinellas County tummy tuck patients, the proof the surgery was needed is all in the results. After healing is complete and swelling from the surgery has subsided, you'll notice a tighter abdomen, without that unwanted bulge or ridge that just wouldn't go away on its own despite your exercise regimen.
Scheduling an Abdominoplasty Consultation with Dr. Moraitis
If you're a Pinellas County mom left with separated abdominal muscles from your pregnancies, Dr. Moraitis can help! Call his office today to schedule an initial consultation, during which he'll:
Perform a complete abdominal examination to understand your unique presentation of separated abdominal muscles
Listen to your concerns about your current appearance and desired outcome
Take a complete medical and behavioral history (including the use of any nicotine products) to determine if you are healthy enough for elective plastic surgery
If you meet Dr. Moraitis' tummy tuck candidate criteria, you'll proceed to work with his office up until surgery day, and throughout your recovery.
If you're ready to make the first move and schedule an initial abdominoplasty appointment, call Moraitis Plastic Surgery today to get the process started. We can be reached at (727) 773-9796.