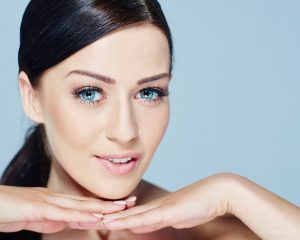 When men and women from the Clearwater area visit Dr. Moraitis of Moraitis Plastic Surgery to talk about having a facelift, most of them have one burning question, "Can a facelift improve the appearance of my sagging cheeks and jowls?" These are effects of aging that many of Dr. Moraitis' patients suffer from, and it causes them to be very unhappy with the reflection they see in the mirror. If you are burdened by sagging cheeks and jowls, we have good news! A facelift is designed to address those specific areas!
The 411 On Sagging Cheeks And Jowls
Sagging cheeks and jowls can leave you looking angry or mean. Jowls are bags of skin along the jawline that sag or droop lower than the jaw. Sagging cheeks and jowls can develop when elastin and collagen in the face begin to deteriorate, causing the face to lose firmness. More specifically, jowls can occur when the lower cheek muscles lose strength and volume through the natural process of aging. Jowls can be caused by several things, including:
Smoking
Sun Exposure
Genetics
Environmental Lifestyle Choices
Weight Gain or Loss
The Facelift Procedure
Many Clearwater residents show signs of aging in their face in the form of sagging cheeks and jowls. It's just the unfortunate result of getting older. But the good news is that a facelift procedure is a perfect way to resolve these issues. Dr. Moraitis uses his artistic skill to provide his patients with natural looking results, rather than leaving looking "windblown."
During your initial consultation at Moraitis Plastic Surgery, Dr. Moraitis will spend a significant amount of time discussing the procedure with you to make sure he understands what your desired results are. During this time, he encourages you to ask any questions you have about the procedure to ensure you have a realistic understanding of what to expect from your facelift. Just like every Clearwater man and woman is different, every facelift procedure is different. Dr. Moraitis makes a specifically tailored plan to meet your specific needs and aesthetic goals.
During a facelift procedure, Dr. Moraitis will make an incision in your hairline beginning in the temple area. This hidden incision will run behind and around your ear. Though this is a long incision, it provides Dr. Moraitis the access he needs to effectively tighten the skin that causes sagging cheeks and remove the extra skin causing those frustrating jowls.
If You're Done Looking At Those Sagging Cheeks And Jowls, Call Us Today!
If you are a man or woman who is tired of the reflection that is staring back at you in the mirror because of your sagging cheeks and jowls, Dr. Moraitis and his team are here to help. Call his office to schedule an initial consultation and find out how you can look as good on the outside as you feel on the inside. You can reach them at their Clearwater area office by calling (727) 773-9796 today!