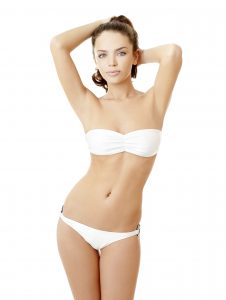 Dr. Moraitis frequently performs liposuction on Clearwater patients – especially around the abdomen, thighs, or flanks – to provide patients with a more balanced silhouette. In fact, having the procedure performed on these areas is a very common request! With our beautiful weather and beaches just steps away, it's easy to understand why locals want a sculpted figure year 'round. Here are a few tips on how getting some extra help with your figure via Dr. Moraitis' artistic eye and technical know-how can help you be beach-ready all year long.
Liposuction Removes Those Stubborn Fatty Deposits That Just Won't Go Away
Sometimes, Clearwater residents confuse liposuction with weight loss surgery. In actuality, the two procedures couldn't be any more different! Weight loss surgery, also known as bariatric surgery, is targeted at reducing the amount of food you can digest so that you'll ultimately lose a large amount of weight.
Having Dr. Moraitis sculpt your body is completely different. The procedure is best for Clearwater patients who are already at, or very close to, their goal weight, but still have some lingering fatty deposits that won't go away despite having a good diet and exercise regimen. And, one section of liposuction is only designed to remove a maximum of 4lbs of fat – so it won't cause you to lose a dramatic amount of weight.
On the contrary, the procedure should be viewed as a body sculpting tool. If you have love handles that won't go away, or little extra belly fat, Dr. Moraitis can suction out those fat cells for good. By maintaining a proper diet and exercise plan and not gaining any future weight, it's possible to maintain these results – and your sleeker silhouette – indefinitely*!
Many People Carry Extra Fatty Deposits Around Their Figure
One of the reasons that liposuction is viewed as a solution for balancing out a Clearwater patient's silhouette is that it's so common to carry a little extra fat in those areas. Many people, despite how hard they work at the gym and how disciplined they are at saying "No!" to extra carbs and sweets, carry love handles or a little extra belly fat or fat in the inner or outer thighs. Some patients, especially athletic ones, find this discouraging because of how much effort they put into keeping their bodies fit and toned.
A body sculpting session with Dr. Moraitis, however, can make all the difference in giving you the figure you've always wanted – and let's face it, considering how hard you work at dieting and exercising – you deserve! When these unwanted fat cells are suctioned out by Dr. Moraitis, they're gone for good. You'll never see these areas grow back fat again unless you gain additional weight in the future.
Schedule an Initial Consultation Today
If you've been working hard to get the silhouette you've always wanted, but just have that final bit of fat that won't respond to your efforts, then a consultation with Dr. Moraitis may be in order. During this appointment, you can discuss your problem areas, Dr. Moraitis will examine them, and then give you his best, educated estimate on how he can sculpt your body to your desired shape given his years of experience performing this procedure.
To schedule an initial consultation at Clearwater's Moraitis Plastic Surgery, call our practice today at (727) 773-9796.
*Individual results may vary.