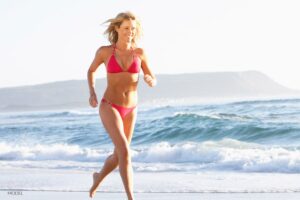 People are turning to minimally invasive alternatives to help them with the removal of stubborn fat. One of these options is CoolSculpting®. Learn more about this procedure, what it can offer, and how long it takes to see results.
---
What Is CoolSculpting?
CoolSculpting is a non-surgical procedure that can help remove excess fat by freezing it. It targets fat cells, which are more susceptible to cold temperatures than other cells. The freezing temps destroy the cells, making it easy for your body to eliminate them via the lymphatic system.
CoolSculpting is a good choice for fat pockets that neither diet nor exercise has diminished. Some common treatment areas are:
Abdomen
Love handles
Thighs
Back fat
Bra fat
Upper arms
Neck
CoolSculpting is an FDA-approved procedure for fat reduction but is not a weight-loss tool. The best candidates are close to their ideal weight and just need a bit of help with stubborn fat.
---
Benefits of CoolSculpting
CoolSculpting is a non-surgical procedure, meaning there's no downtime. The procedure takes as little as 35 minutes, and you can return to your daily routine without any downtime.
CoolSculpting can target specific areas. By placing the applicator directly on the stubborn fat you want to remove, you can get the localized fat reduction you want.
Another benefit that CoolSculpting offers is natural-looking, gradual results. With this option, your body will eliminate the dead fat cells using its own natural process, so you will get results that appear naturally.
Another important benefit that CoolSculpting offers is that it can provide permanent fat reduction. It kills fat cells, removing them from the area. You don't have to worry about the fat cells in those spots returning as long as you maintain a healthy weight and an active lifestyle.
---
The Procedure and Its Results
On the day of your procedure, your provider will place a gel pad and an applicator on the treatment area.
After the treatment, your provider will massage the treated spots to help break down the fat cells, making it easier for your body to absorb them.
Depending on the size and number of areas you want to treat, the entire procedure can take from 35 minutes up to 3-4 hours. After the procedure, you can return to your daily tasks.
You may see results in the treated area as early as 3 to 4 weeks after the procedure, although most results are visible after two or three months. As fat elimination continues, you can keep seeing reduction for up to six months post treatment.
To achieve the optimal outcome in some treatment areas, you may need more than one CoolSculpting session.
---
Get Rid of Stubborn Fat at Moraitis Plastic Surgery
CoolSculpting can help you eliminate fat pockets that diet and exercise have failed to remove, and it can do so in a non-surgical way that requires no downtime.
At Moraitis Plastic Surgery, Dr. Moraitis offers a variety of body contouring procedures to help you achieve the body of your dreams. Double board-certified in Plastic and General Surgery, he has been practicing for more than 20 years in Palm Harbor and Clearwater, Florida.