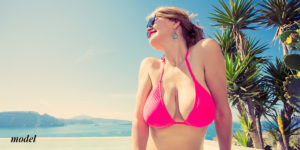 Every year, Dr. Moraitis sees many  Palm Harbor And Clearwater area women who are interested in finding out if they might be considered a good candidate for breast augmentation. While this plastic surgery procedure can provide positive results for many women, the truth is that not everyone will be considered a good candidate for breast augmentation and Dr. Moraitis must perform a full evaluation before he can determine your eligibility.
Factors considered when determining eligibility for breast augmentation surgery include the safety for each individual patient. Because your health and wellbeing are important to Dr. Moraitis, he will need to determine whether or not an elective procedure like breast augmentation is safe for you. Keep reading as we go through some of the criteria Dr. Moraitis must consider.
Breast Augmentation with Dr. Moraitis
The breast augmentation procedure is used to restore volume to breasts that may have been lost due to aging, weight change, or pregnancy. It can also help Palm Harbor And Clearwater area women who have naturally smaller breasts achieve their ideal appearance.
When you meet with Dr. Moraitis, he will review the different aspects of the breast augmentation procedure, including breast implant size, shape, type, profile, and placement, as well as the incision type that you'd prefer.
Everyone will have a unique treatment plan, and Dr. Moraitis works carefully to ensure every breast augmentation patient receives the results they want.
Do You Qualify for Breast Augmentation?
When it comes to determining a patient's eligibility for breast augmentation, one of the most important questions to answer is, "Who are you doing this for?" If a patient answers anything other than themselves, he recommends they take additional time to reconsider. You should only choose plastic surgery for you—no one else. Your emotional wellbeing is very important to Dr. Moraitis, and if you choose to make changes to your body for someone other than yourself, you may not truly be happy in the end.
Otherwise, a good candidate for breast augmentation includes those who: 
Have realistic expectations of their final results
Are healthy physically and mentally
Aren't pregnant or breastfeeding
Feel their breasts are too small for their body type
Are unhappy with the shape of their breasts
Have asymmetrical breasts
Have breasts that are elongated rather than round
Dr. Moraitis will only be able to determine your candidacy for breast augmentation through an initial consultation where he will perform a physical examination, talk to you about your health history, listen to you explain why you want breast augmentation, and answer any questions you have about the procedure. From there, he will be able to work with you to develop a treatment plan that suits your specific needs and meets your desired goals.
Call Dr. Moraitis in Palm Harbor And Clearwater Today
Dr. Moraitis is a double-board certified plastic surgeon who serves the men and women of the Palm Harbor And Clearwater area. He has more than 18 years of experience, with skills in both cosmetic and reconstructive surgery. At Moraitis Plastic Surgery, Dr. Moraitis is committed to rejuvenating and enhancing your natural beauty through the use of FDA-approved products and procedures.
If you'd like to find out if you'd make a good candidate for breast augmentation, call his office in the Palm Harbor And Clearwater area today at (727) 773-9796, and a member of his friendly team will be happy to set up your initial consultation.