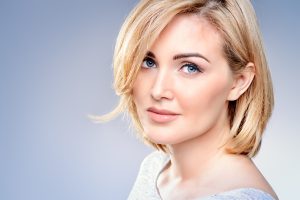 A facelift is not a one-size-fits-all procedure. Many Clearwater men and women seek out Dr. Moraitis for a facelift to address different issues that they are unhappy with. One of the most common reasons that patients request a facelift is to address sagging cheeks and jowls, or the drooping lower parts of your cheeks. Read on to learn how Dr. Moraitis can use his artistic skill and technical know-how to address these common issues on your face.
What Causes Sagging Cheeks and Jowls, to Begin With?
If you live to be old enough, you'll likely start showing sagging cheeks and jowls – or loose and sagging skin below the jawline. This is because as we age, we lose collagen and elastin in our skin, which helps to keep a tight facial appearance. These issues also occur because your skin becomes thinner and thinner over time.
Other causes of sagging cheeks and jowls include:
Certain facial expressions that stretch out your neck and chin skin.
Significant weight loss.
Smoking, which damages both collagen and elastin, your body's natural rejuvenation process.
Sun exposure without using UVA and UVB sun protection.
Using a computer or looking down at a smartphone for a prolonged period of time, a new cause that has been dubbed "tech neck."
For Clearwater residents, a facelift is an excellent way to address these issues.
Treating Sagging Cheeks and Jowls.
If you have sagging cheeks or jowls, your overall appearance may make you look older than you actually are, or feel inside. And this loose skin may make you feel unattractive, or that your "good" days are behind you. That doesn't have to be the case. By making an incision underneath your chin, Dr. Moraitis can surgically remove the sagging jowls around your neck. And incisions hidden in your hairline and going around your ear can be used to tighten up loose or sagging cheeks. Overall, you can have a more youthful appearance, one that many patients say makes them feel like they look 10 to 15 years younger, without looking "windblown."*
Are You a Good Candidate for a Clearwater Facelift?
Before Dr. Moraitis will consider you a candidate for plastic surgery in his practice, you must pass certain criteria. This is because Dr. Moraitis carefully screens all potential patients to ensure they are in good health and have healthy habits that will increase the likelihood of natural-looking, realistic results. This criterion includes:
Disclosing your full medical and mental health history so that Dr. Moraitis can confirm that facelift surgery is safe for you.
Passing a pre-op appointment by your Clearwater primary care physician.
Listening to Dr. Moraitis explain the surgery and potential results, and communicating with him that you understand them.
Being a non-smoker because not only can smoking complicate the surgery and recovery process, but is a common cause of sagging cheeks and jowls, to begin with.
Being in good overall mental health.
Having realistic expectations for your facelift surgery.
Schedule an Initial Consultation Today
If you have sagging cheeks and jowls that you're hoping to have addressed surgically, your next best step is to schedule an initial consultation with Dr. Moraitis and Moraitis Plastic Surgery. During this appointment, he'll explain the procedure to you, answer all your questions, and begin to determine if you are a qualified candidate for a facelift.
To schedule this appointment today, call our offices at (727) 773-9796. We look forward to hearing from you.
*Individual Results Will Vary