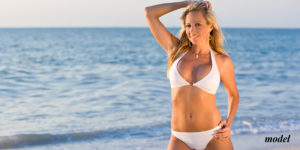 Pregnancy and childbirth are both amazing experiences—there's truly nothing like bringing new life into the world. However, many women in Palm Harbor And Clearwater are unhappy with the way their bodies look after they've finished having children, which is why so many visit Dr. Moraitis to discuss the mommy makeover procedure. This combination plastic surgery can greatly improve many of the effects of pregnancy, such as extra abdominal skin, sagging and deflated breasts, and hips that just won't slim down—regardless of the diet or exercise program.
But one of the most frustrating leftovers of pregnancy, and one that Dr. Moraitis is often asked about during his mommy makeover consultations, are stretch marks. Stretch marks occur when the skin is unable to adequately respond to rapid growth. As the skin expands, small tears occur in the deep layers of the skin. Many times, stretch marks start out as raised streaks that can be purple, red, or brown in color. Eventually, they will often fade to a silvery-white color and appear glossy.
Women who visit Dr. Moraitis to discuss the mommy makeover procedure, do so in hopes that he can help them improve the appearance of their stretch marks, but can this procedure actually help?
The Mommy Makeover Procedure
As we mentioned above, pregnancy can cause a woman's body to change in ways that aren't necessarily appreciated. A mommy makeover with Palm Harbor And Clearwater's Dr. Moraitis can greatly improve many of the unwanted problems that remain after childbirth. Depending on your specific needs, he can perform any combination of the following procedures during one surgical event:
Nipple and areola reduction
Butt lift
Because most Palm Harbor And Clearwater women experience stretch marks in their abdominal area, their hope is that a tummy tuck will be the answer to their problems, and they'll be able to have a flawless tummy again. The good news is that Dr. Moraitis is able to remove stretch marks for most of his mommy makeover patients who choose a full tummy tuck. This procedure addresses lax skin and muscles from the rib cage down, which is where most Tampa women have pregnancy stretch marks.
For Better Results, Consider Other Methods to Treat Your Stretch Marks
Even if you are left with stretch marks after your mommy makeover with Dr. Moraitis, there are still options he offers his Palm Harbor And Clearwater area patients to help further reduce their appearance. Those may include:
Prescription creams/topicals
Be sure to express all of your concerns to Dr. Moraitis during your consultation and follow-up appointments so he can recommend the best course of treatment that will help you get the results you want and deserve.
Let Dr. Moraitis Help
With more than 18 years of experience providing his patients with amazing results through mommy makeover, Dr. Moraitis is an expert at developing treatment plans that truly suit the needs of each individual patient he sees.
To learn more about the mommy makeover procedure and how it could give you the body you've been dreaming of, simply call his office in the Palm Harbor And Clearwater area today at (727) 773-9796.