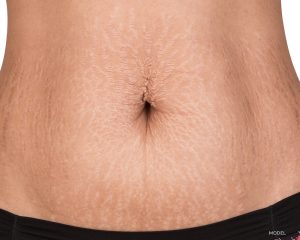 Stretch marks can leave many Clearwater residents with a tummy they just don't want to show off. They are most familiar to moms who have gone through pregnancy, or men and women who have had extreme weight loss. Stretch marks are created when the skin is stretched beyond its natural ability to retract. They are frequently seen on the abdomen and are another problem men and women want to correct when considering a tummy tuck. Keep reading to learn more about how a tummy tuck with Dr. Moraitis can improve the appearance of stretch marks.
The 411 on Stretch Marks
Anyone can get stretch marks, and they can occur in many different places on the body, including the stomach, thighs, arms, breasts, and hips. Stretch marks are visible lines that form on the skin and appear when the middle layer of skin, the dermis, is stretched too much and too quickly, causing the collagen fibers to break.
Stretch marks are not physically dangerous but can lead some Clearwater residents to suffer from insecurity and anxiety, as they may be embarrassed or ashamed of them. Usually, stretch marks start out as raised streaks that can be purple, red or brown. Over time, the streaks fade to a silvery white color and often appear glossy.
Does a Tummy Tuck Completely Remove Stretch Marks?
Many Clearwater area men and women suffer from abdominal stretch marks that typically run vertically up their abdomen. During a tummy tuck, one incision is made from hip to hip and below the bikini line, which allows Dr. Moraitis the access he needs to repair abdominal muscles and tighten the skin. Sometimes a small incision is made around the belly button, which allows the soft abdominal tissues to be lifted and repositioned. Because stretch marks can only be removed through skin removal, only those located below the belly button will be removed. Even though the stretch marks located above the belly button will be left, they may be lowered and less noticeable through the redraping and tightening process.
Other Solutions to Help the Appearance of Stretch Marks
While no one product or treatment has proven effective for everyone, there are many options available that can decrease the appearance of stretch marks. These can include:
Sun Protection – it is important that men and women who suffer from stretch marks use adequate sun protection. Sun exposure can cause hyperpigmentation, or hypopigmentation of your stretch marks and can lead to stretch marks that are permanently darker or lighter than your natural skin color, thereby increasing their visibility. 
Laser Treatments – laser treatments have proven to be effective in reducing the appearance of stretch marks for many Clearwater residents. Laser treatments can increase collagen production over time and reduce the visibility of scars. Patients can receive as many as 20 treatments and often see a significant improvement with this method.
Prescription Creams – some prescription creams, such as Retin-A, have proven effective for reducing the visibility of stretch marks for some patients, but not all. This medication penetrates deep into the skin to restore collagen, which is how it is able to work for some patients. However, Retin-A comes with some side effects and should not be used by women who are pregnant or nursing.
Come in for Your Initial Consultation with Dr. Moraitis to Learn More
Only through an appointment with Dr. Moraitis will you be able to know how a tummy tuck will be able to improve the appearance of your stretch marks. During your initial consultation with Dr. Moraitis, he will examine your abdomen and the location of your stretch marks to determine if he will be able to completely remove them during your tummy tuck. If not, he will be able to recommend additional solutions to help reduce their appearance.
Call his office in the Clearwater area to schedule your appointment at Moraitis Plastic Surgery at (727) 773-9796.