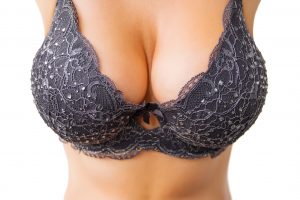 All Pinellas County women are born with some degree of disproportion between their two breasts. For most, the differences in shape and size are marginal. But some women have two breasts that are so distinctly different in shape and size, the differences are noticeable in a bikini, when wearing tight-fitting clothing, and during intimate situations.
While many women in Pinellas County think of a breast augmentation as a surgery to simply go bigger, it's also a cosmetic procedure that can help even out uneven breasts. Dr. Moraitis of Moraitis Plastic Surgery has helped many local women achieve these results throughout his career. Dr. Moraitis can adjust for any asymmetry you may have.
Selecting Your Implant Shape to Help Provide Mirror-Image Looking Breasts
Whether your breasts are unevenly shaped because you have one breast that looks more like a teardrop, or one that looks more rounded, you can have mirror-image breasts by deciding on which shape you prefer. Next, select the implant that matches that shape for Dr. Moraitis to place in the opposite breast. The results are breasts that look the same shape, even though you didn't naturally develop that way.
Choosing the Right Size Implant for Each Breast
There's a common misconception amongst Pinellas County women that breast implants must come in exact pairs. In reality, this myth couldn't be further from the truth! It's common for breast augmentation patients to choose different sized implants for their surgery because they have one breast that is naturally smaller than the other. By choosing a different sized implant for each breast – or deciding only to augment the smaller one – Dr. Moraitis can help these women have the size symmetry they so often desire.
Choosing a Breast Augmentation Incision at the Breast Site
There are 3 breast augmentation incision types:
The inframammary incision, which is made where the bottom of the breast meets the ribcage
The periareolar incision, which is made around the bottom of the areola
The transaxillary incision, which is made through the armpit, allowing Dr. Moraitis to create a channel to the breast
To best achieve an even look, Dr. Moraitis recommends either the inframammary or periareolar incisions. Because these incisions are made at the breast site, they allow Dr. Moraitis to more easily create breast size and shape symmetry.
Schedule Your Breast Enlargement Consultation Today
To work with Pinellas County plastic surgeon Dr. Moraitis to even out your asymmetrically sized or shaped breasts, call/text us today to schedule an initial consultation. We can be reached at (727) 773-9796