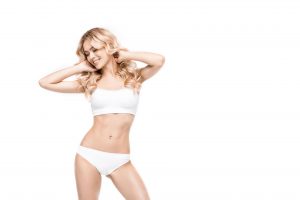 Many Clearwater men and women interested in sculpting their bodies through liposuction ask Dr. Moraitis the same questions: "What will happen if I gain weight after the procedure?" While this fat-sucking body sculpting procedure is designed to target problem areas and remove stubborn fatty deposits for good, that doesn't mean there won't be repercussions if you gain additional weight in the future. To better understand why, here's an explanation of how the procedure works, and why you need to stay on a nutrition and fitness plan after your procedure to maintain your current weight for the long run.
How Liposuction Works
Many Clearwater men and women aren't fully knowledgeable about how liposuction works. This body sculpting procedure can provide amazing results if you follow the plan that providers like Dr. Moraitis of Moraitis Plastic Surgery lays out for his patients. First and foremost, this body sculpting procedure is not a weight loss surgery. Instead, it's designed to help patients who are at or near their goal weight to eliminate stubborn fatty deposits that just won't respond to diet and exercise. Problem areas that are often treated with this procedure include love handles, flanks, belly fat, inner or outer thigh fat, and double chins.
When you undergo lipo, up to about 4 lbs of fat is removed per session. And once that fat is suctioned out, it's gone for good! The fat cells that Dr. Moraitis removes with his lipo cannula will never re-grow or reappear in your body, ever.
However, you will still have fat cells adjacent to your treatment area. And these fat cells are what may cause problems in your treatment area if you gain weight in the future. You see, fat cells grow and shrink and as you gain and lose weight. If you have liposuction performed and then gain weight in the future, it's possible that your future weight gain will negate your initial procedural results.
How Dr. Moraitis Works With Patients to Achieve Long Lasting Results
While Dr. Moraitis loves reconnecting with past patients and performing new procedures on them as part of their overall wellness plan, he doesn't want to perform liposuction on the same treatment area twice. That's why he carefully screens his potential Clearwater patients to make sure they're ideal candidates for the procedure. His criteria include making sure patients are:
In good overall physical and mental health
At or very close to their goal weight, and have been at that weight for at least 6 months
Committed to maintaining their goal weight by sticking to a proper nutrition and fitness plan for the long haul
If you meet these requirements, along with some other health criteria, Dr. Moraitis will likely consider you to be a good candidate for the procedure who will avoid future weight gain that may negate your procedural results.*
Scheduling a Consultation with Dr. Moraitis
If you're interested in body sculpting to trim down some stubborn fatty deposits, but concerned about how future weight gain might negate your results, be open and honest with Clearwater's Dr. Moraitis during your initial consultation at Moraitis Plastic Surgery. He wants to have an open dialogue with you and answer all your questions about the procedure before you sign the dotted line.
To schedule an initial consultation at Clearwater's Moraitis Plastic Surgery, call our practice today at (727) 773-9796.
*Individual results may vary.