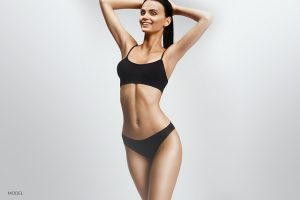 It's very common for Clearwater men and women consulting with Dr. Moraitis about getting liposuction, to ask if they're at a good weight to have the procedure, or should they drop a few pounds before signing on the dotted line. This is a very good, and smart, question for potential patients to ask. The reason – the body sculpting that occurs with this procedure isn't designed to help a patient lose weight. In fact, each session only removes about 4 lbs of fat – nothing that could be considered dramatic weight loss for a patient who is overweight.
The Ideal Liposuction Patient
When Dr. Moraitis is interviewing Clearwater men and women who want to lose excess body fat through liposuction, there's a variety of criteria he is looking for to determine if someone is an ideal patient or not. Dr. Moraitis is looking for patients who:
Are at or near their goal weight
Are on a regular diet and exercise plan to maintain their current weight
Have a little bit of stubborn fat that isn't responding to their current nutrition and fitness plan
Are committed to maintaining proper diet and exercise post-procedure, so they have a better chance of obtaining long-lasting results
Liposuction Isn't Ideal If You're Overweight
If you have just a few pounds you'd like to shed, Dr. Moraitis is likely to consider you as a patient for body sculpting. But Clearwater men and women whose BMI falls into the "overweight" category aren't good candidates for this procedure. The reason is that liposuction only removes up to 4 lbs of fat per session. This will be a very small weight loss in patients who are overweight, and likely unnoticeable. Because Dr. Moraitis wants you to love your results, he asks patients with an overweight BMI to work on shedding those additional pounds first before signing up for this procedure.
The Dangers of Gaining Weight After Your Procedure
While Clearwater plastic surgeon Dr. Moraitis wants you to be at your goal weight before signing up for body sculpting, he's just as interested in making sure you have a plan to maintain that weight after your procedure. You see, when you have fat suctioned out, those fat cells are gone for good. But adjacent fat cells remain. And your body's fat cells can grow or shrink at any time.
Let's say you have body sculpting performed on your flanks, that just won't shrink no matter how much you diet or exercise. If you lax up on your fitness routine after your procedure, it's possible that the remaining fat cells near your treatment area will enlarge as you gain weight. This means you can completely negate your procedural results just by gaining 5-10 extra pounds!
Dr. Moraitis doesn't want to see you for repeated procedures on the same treatment area. Instead, he wants you to have long lasting results that you'll love for years to come. And obtaining those results is possible if you have the procedure performed when you're at your goal weight, and you continue to have a plan to stay at that weight for good.*
Schedule an Initial Consultation
If you're wondering if your body is ready for recontouring now, the best thing you can do is schedule an appointment with Clearwater's Dr. Moraitis at Moraitis Plastic Surgery.
To do so, call our practice today at (727) 773-9796.
*Individual results may vary.