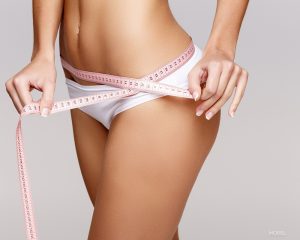 Clearwater residents who are interested in a tummy tuck often find themselves researching the ins and outs of the procedure for weeks or months before making the decision to move forward. And how wise! A tummy tuck is a major procedure and a big investment to boot. It's not a decision to take lightly. One thing many men and women worry about when considering a tummy tuck is future weight gain. Will adding a few pounds negate the results of a tummy tuck? Keep reading to learn how weight gain can affect your tummy tuck results.
The Tummy Tuck Procedure
A tummy tuck is designed to tighten loose or sagging abdominal skin, and repair separated abdominal muscles if needed. During your tummy tuck procedure at Moraitis Plastic Surgery, Dr. Moraitis will make an incision from hip to hip below the bikini line. This allows him to have access to the muscles and tissues he needs to correct during the procedure. A tummy tuck provides Dr. Moraitis' Clearwater area patients with the abdomen they've been longing for. This procedure is a popular choice for women who have gone through pregnancy or men and women who have experienced significant weight loss.
Weight Gain After a Tummy Tuck
Dr. Moraitis sees patients every year who want to have a tummy tuck procedure but are concerned that the results will be negated if they gain a few extra pounds down the line. While you should maintain a healthy lifestyle, a small amount of weight gain is common after a tummy tuck procedure. One reason for this is due to the exercise restrictions placed on men and women after their surgery. Being required to avoid exercise for several weeks naturally comes with a few added pounds, but not to worry! Weight gain and fluctuations of 10-15 pounds typically won't negate the results of a tummy tuck. If patients gain an excessive amount of weight, however, the skin will once again be stretched out, and the results of the tummy tuck will be lost. That is why it is important to start healthy habits now, before undergoing a tummy tuck procedure.
Get into Health Habits Now
Dr. Moraitis' patients in Clearwater should know that a tummy tuck is not a weight loss surgery. Therefore, he recommends that his patients be at or near their ideal weight before having a tummy tuck procedure. He also recommends that his patients start healthy habits now. Establishing a healthy diet and consistent exercise regimen will help you avoid excessive weight gain, and ensure you get the most out of your tummy tuck from Dr. Moraitis.
Schedule Your Consultation With Dr. Moraitis Today to Learn More
Dr. Moraitis is a dual-board certified surgeon and is proud to serve the residents of Clearwater. He and his highly trained staff want to help you become the best version of yourself and will be there every step of the way to answer any questions or concerns you may have.
If you're ready to get the flat tummy you've been longing for, call his office today at (727) 773-9796.