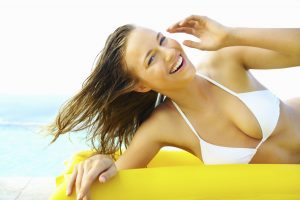 All Clearwater women have some degree of breast asymmetry. It's just the way women's bodies are made. Some women, however, have breasts that are noticeably different in size or make it difficult to purchase bras or bathing suits that properly fit both breasts. These women frequently consult with Dr. Moraitis to find out if a breast augmentation surgery can help balance out their breasts. And they are often excited to hear that the answer is "Yes!"
Evening Out Uneven Breasts
Breast augmentation surgery is extremely popular in Clearwater and throughout the United States, and fixing breast asymmetry is one of the primary reasons women seek out this procedure. When you're choosing to have a breast augmentation due to breast asymmetry, you may need to make different choices than you would if you wanted breast augmentation simply to go bigger. These include:
Perhaps using different size silicone implants so that your smaller breast receives a larger implant.
Considering using saline implants, which are filled during the surgery so that Dr. Moraitis can more evenly fill them.
Selecting different breast profiles, so that your results are evener.
Choosing an incision on the breast site – either the inframammary incision or periareolar incision – so that it's easier for Dr. Moraitis to provide you with symmetrical results.
Your Breast Augmentation Experience
On the day of your breast augmentation procedure, you'll arrive at the surgery center having fasted for 12 hours. This is a requirement for receiving anesthesia, as the medication can make your nauseated. Before your surgery, you'll be prepared by the prep-team, then taken to the operating room for your procedure. You'll receive general anesthesia for your ultimate comfort. Throughout the surgery, you'll be monitored by an anesthesiologist, who will check your vital signs consistently as your health is Dr. Moraitis' ultimate concern.
After your breast augmentation surgery is completed, you will be placed in a recovery room, where you'll wake up from the effects of general anesthesia. You may experience some nausea during this process, which is completely normal. Most women are able to go home the day of their Clearwater breast augmentation.
Are You a Candidate for Breast Augmentation?
Dr. Moraitis carefully screens each of his Clearwater patients to ensure that:
They are in good general health.
They are cleared with a pre-operative appointment from their general physician.
If desiring silicone breast implants, they are at least 22 years of age as per FDA regulations.
They carefully listen to Dr. Moraitis explain the breast augmentation procedure.
They have realistic expectations for their breast augmentation, including knowing that some slight breast asymmetry may still exist after their procedure, which is normal.
They are non-smokers, as smoking can complicate both the surgery and recovery time.
Schedule a Consultation with Dr. Moraitis Today
If you have asymmetrical breasts and you're ready to finally fit into a bra or bathing suit without having extra space on one side, then it's time to see Dr. Moraitis for a consultation.
You can schedule this initial appointment with his office in the Clearwater area today by calling (727) 773-9796.